Turkeys
(ages 5-9) by Julie Murray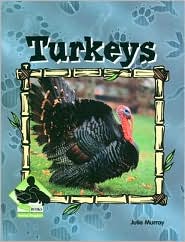 This non-fiction selection is ideal for instructional use.

Using straightforward text, children are introduced to this popular holiday animal on the farm and in the wild.

First, context for studying turkeys is given.

Essential areas covered are: their appearance, names and differences based on gender, where they live, what they eat, why they gobble, how babies are born (eggs), and how babies grow and survive.

Throughout the text, the differences related to wild and farm-raised turkeys are distinguished.

Important vocabulary words are bolded, defined, and used in context, such as incubation, poultry, snood, and flock.
Setting the Turkeys Free
(ages 4-8) by W.Nikola-Lisa
A young boy makes a hand print with paints.

He decorates it with feathers, sequins, glitter, and other art supplies to create a turkey.

He is having so much fun that he creates several more hand-print turkeys, each with its own unique look.

Next, he builds a popsicle pen to protect them.

Meanwhile, a hungry painted fox is the prowl when he spots his beautiful turkeys.

The colorful turkeys outsmart the fox.

The little boy sets out a treat in hopes of luring the turkeys to return.

The collage illustrations have two-dimensional appearance that compliments the storytelling well and inspire a class or home art project of a similar nature.